I was going through my craft patterns last night and found my notes on how to dye wool with food coloring or Kool Aide. I sure am getting the itch to try my hand at it once again this winter.
On January 10th, 2010 I posted on my old blog of my experience dyeing wool with food coloring and had to share it with you all. I have have been enjoying my hand dyed wool Calorimetry headband this fall and winter. ( pattern HERE)
I have been wanting to dye my own wool for years but never have had the courage to. But I keep hearing about those ( my older brother included) who have dyed animal fibers with Kool Aide. It is a safe and wonderful non fussy way to do it in your own kitchen. You even can use your crockpot ! My crockpot has become one of my most favorite tightwad tools.
My brother gave me some white sheeps wool last year. I have been holding onto it for awhile and decided to take the plunge and dye it. But as I was researching how to dye it I found out you can also dye it with food colouring ! This neat must see homestead video that shows how to dye wool with Kool Aide. Off there they gave a link in in their more info a very well written out instructions too and a neat link to food colour dyeing your wool.
Here I am winding my wool into a hank of yarn.
I tied my hank in several places to hold it together while I dye it. ( suggestion here: tie very loose or it will give a tie dye ring…not reccomended unless you want that look.)
Here I am soaking my wool in a vinegar and water bath over night to help it to absorb the dye better.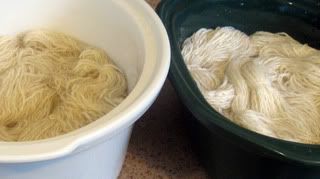 .
Here is my yarn in the crockpot after I have poured my food coloring mix into it. Please watch video and read the instructions on the side. It explains it very well. There is one other site that I recommend to read too. Go HERE.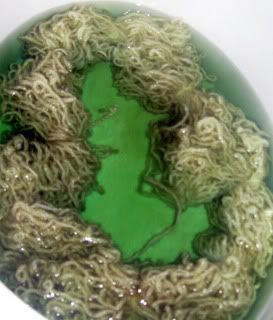 .
This is what the water looks like after it has exausted all the colour from the water. It is so fun to keep peeking in and seeing it disapear. This is a GREAT science experiment with learning color therory. I had a ton of fun mixing my own colours with the food colouring.
.
TA DA ! Here is my first tries !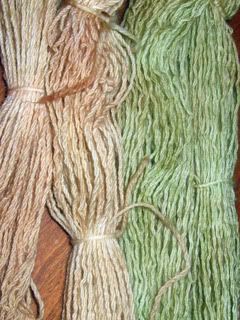 .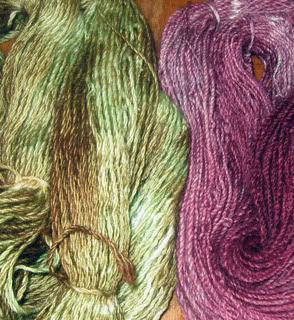 .
I thought I would show what my knitting basket looks like right now. The top right corner shows the two balls of yarn that I dyed the second time round. Doesn't this make you want to try it ?!?