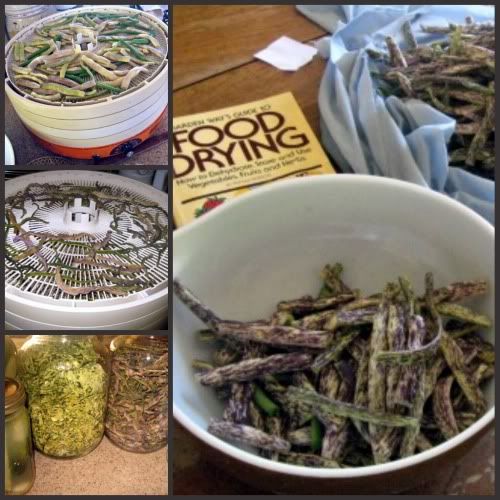 This year I am trying real hard to find ways to preserve food with as little use of plastic as I can. So instead of blanching and freezing beans in freezer bags I am trying out drying my beans. After drying them I store them in glass jars.
How I did it...
I picked the beans when they were still immature ( meaning it hasn't started to form bean seeds) and then blanched them for 2 minutes in boiling water. Dried in the dehydrator for 8-14 ( or until dried) hours at 120*F.
*How to use them...
You can throw them into soups or stews or re dehydrate them and use them in other recipes.
*Here is one recipe...
Dried Green Bean Dish
2 cups boiling water
3/4 ths cup dried green beans
2 Tablespoons dried onions, minced
4 slices of turkey bacon, diced
1/2 teaspoon salt
Pour boiling water over green beans and onions in saucepan. Cover and cook over low heat for 45 minutes until plump and tender.
Meanwhile saute' turkey bacon in a small skillet until brown. Add bacon to green beans. Mix lightly and serve.
serves 4 to 6