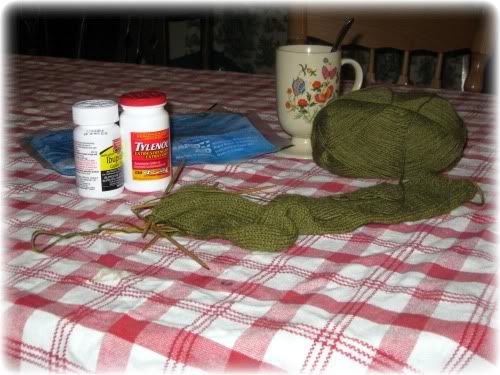 There is best laid plans and then there is reality. I had really hoped to keep up with my challenges that I joined, for example
52 week Organized Home Challenge
and 30 Day Health Challenge in 30 Weeks. They will still happen but I have to plug away at them a bit slower though. All in it's own time I guess. But then my
frozen shoulder
started to rear it's ugly head on Thursday. Friday I was pretty much horizontal laying on my back most of the time to relive some of the pain. Friday my chiropractor squeezed me in for a treatment and by Monday he had diagnosed me with a
frozen shoulder.
All week-end I was on my back icing it with my gel pack. Trying to knit, dozing here and there, asking the boys to help with some of the things to keep things moving along in the home. What a humbling experience indeed. Monday I went for another adjustment from the chiropractor and he showed me some stretches and up'ed my fish oil dosage. If you didn't know fish oil is amazing! Here are
eight proven benefits of fish oil
. There was one option to get a cortisone shot but both Handsome and I decided to go the natural way instead... prayer, stretches, fish oil, and chiropractor care, and all in good time. So for now I will have to pace my self and knit lots.