It took me a while to update my Kitchen Counter challenge, sorry. I kept working hard to get it all nice and spic and span but I had to keep making food while doing it. I started to feel discouraged but I pressed on. On Sunday night hubby and I went out to his ( belated ) staff yearly appreciation dinner. There was A LOT of staff sick in December so it was postponed till January. We got to stay the night at the hotel (at his work) too and had a get away night. I had forgotten that Monday was my Crisis Preg. Center board meeting and shift. That meant I didn't come home till 6:30 on Monday night. I got back to working on it Tuesday and part of Wednesday among-st lessons and other chores but I finally did it. And the pictures are proof. [o= As I was going through my stuff on the counters I kept asking myself do I really need this in the kitchen? Do I really need this? Could I do without this? Does it fit my goals for the kitchen? Does it help me or hinder me? I was able to get rid of some things and re arranged some things. Some things went down to the pantry. I was very pleased with my results.
This coming week the challenge is....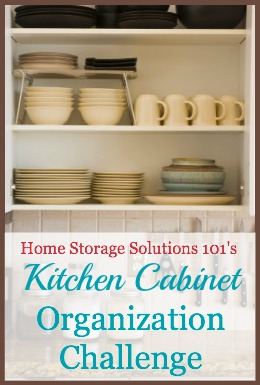 (click on picture to go to challenge)
Week #2 Organized Home Challenge
Kitchen Drawers & Kitchen Cabinet Organization
This week's challenge is all about kitchen drawer and kitchen cabinet organization, where you will both declutter and organize things in a way where you can easily access what you need, when and where you need it.
Thank you for all your sweet encouragement. It sure helped me when I felt like giving up.