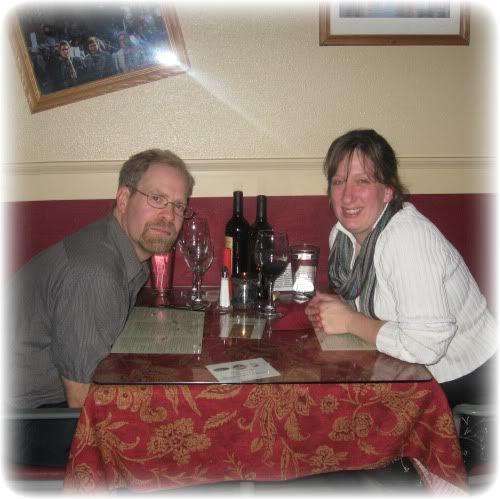 I was wined, dined, and taken shopping for two and a half days by my sweetie. We left hubby's work on Thursday and headed south of the boarder... the Canadian boarder that is. Our first stop was to the
White House Grill
. It was a taste of the Mediterranean .
Yes that is a lamp post inside. This restaurant had a lot of charm. And if you LOVE garlic then this is the place for you!
Now when I say that you need to love garlic to go here I am not kidding. So much that they offer free mouth wash in the bathroom for after your meal. But I guess my hubby and I didn't think that it was that garlicky because we didn't feel the need to use it.
Now, for the day two.... for lunch we went Ethiopian cusine. Ohhh yes I really did say Ethiopian. We had the most wonderful meal after all our morning shopping. There is a
neat
restaurant at the Flour Mill in Spokane Washington. It is the
Queen of Sheba restaurant
. If you are in town that is a MUST visit. We loved our meal and I am hoping to figure out how to make this meal some day soon. [o= If I figure it out I will share.
This is how you eat the meal. Ahhh to bad I didn't know I could had have my sweetie feed me. [o= Like
here
. Hmmmm maybe next time.
I can't believe we just shopped and ate the whole trip. It was fun and I wasn't too bad with talking about the boys. I only said out loud two times..." I wonder how the boys are doing ?". And I only had my hubby facebook them to remind them that the extra bread was in the freezer. I didn't want my boys to go hungry. [o=
Then for dinner. ( sadly no pictures) We went out for Italian. They had the most wonderful coffee ( I splurged here) and Italian deserts. Then the next days lunch was Mexican. Ohhh all these wonderful tastes of different cultures. ( I will come back later and give a link to the Mexican restaurant once hubby is home to remind me the name. )
I was happy that there were a couple of people on this trip who offered to take hubby's and my picture. Here we are in the Hotel entrance. The last night hubby and I took advantage of the hotels hot tub what a treat!
I hope to show and tell some of our shopping finds in the next day or so. Till then...