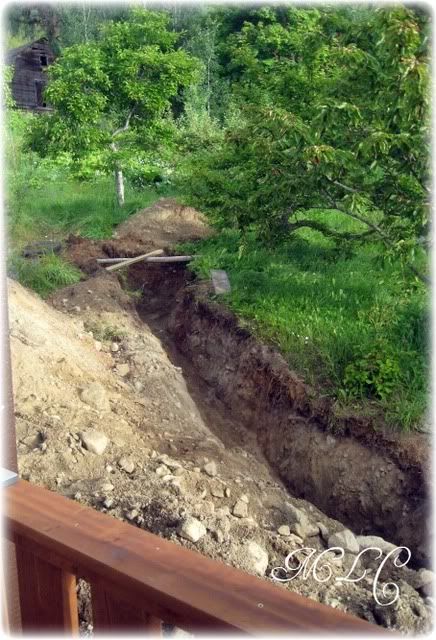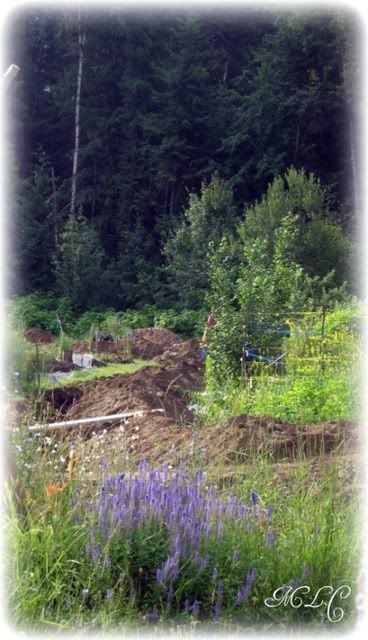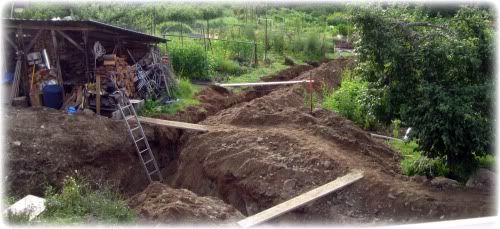 Right now, I am...
::amazed that we are coming to a end of putting in the water system. In the next couple of days we will have the irrigation done. (((HAPPY DANCE)))
:: feeling thankful the Lord provided a way for the irrigation to come together this year. Hubby and I stood back and just let the Lord provide a way . Thank you Lord!
:: enjoying the idea of not having to fill up buckets, juggle water usage for three houses, and water freezing in the winter.
:: loving that the sun has finally decided to come visit us up here in British Columbia.
:: appreciating the clean free flowing water.
:: remembering - what it was like hauling buckets and heating up water just to wash dishes. You appreciate indoor plumbing like never before.
(We didn't have to do this all the time. But there were periods of it from time to time.)
:: thinking that I really need to solidify my books for this coming school year and get lesson plans going.
:: enjoying
all the fresh veggies and fruit that is season. I have been able to eat cherries and strawberries with no allergy reactions, ohhhh so nice.
:: thankful that we start phase II of the Maker's Diet today. And so thankful I can have apples and melons now. [o= (I really missed apples.)
:: embracing my new way of eating.
:: went out and bought Nourishing Traditions by Sally Fallon and can't wait to try some recipes. (Jordan Rubin had some of her recipes in the Maker's Diet book)
:: knowing that I am FINALLY on the right track nutritionally.
::rejoicing that I have
kept off my 6 lbs and...
::hoping to figure out food portions and keep loosing the weight.
:: planning to get walking today. I took a few days break of Walking Away The Pounds and ...
:: wanting to get back to burning off calories.