my update picture of my Psalms 23 x-stitch and my pair of socks. Trying to get the socks done so I can start my cowl.
[o=
I have been toying around with picking out my birthday gift from my men. Yes, they gave me a budget and I get to pick. [o= At first I thought I would order a skirt...then I thought to myself I have enough for now. Then I thought about asking for a food processor...then I thought about how much we have been using our blender and I can make do with it for now.
And when "someone" knocked off the skein twice ( which it was hanging on a chair) and it got
TANGLED
up... and I felt like coming unglued. I thought
I might REALLY want this
..... ( and it is on sale right now until the 15th!)
I also now have a soaking corner...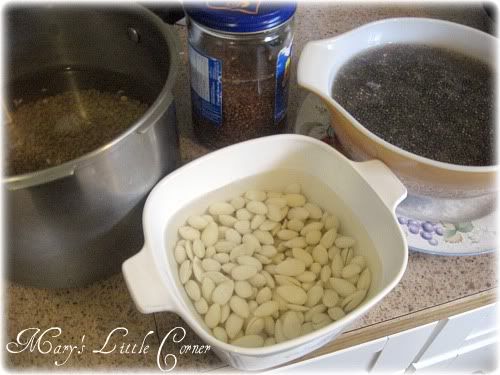 I am soaking almonds to make raw almond butter for the boys. I am soaking chia seeds and flax seeds to make crackers. ( will update you how they turn out) And I am also soaking more lentils for my favorite lentil salad. ( will update you with a recipe later)