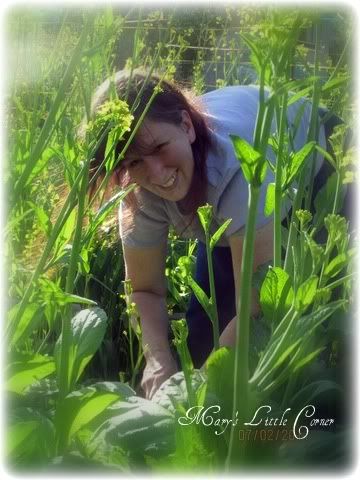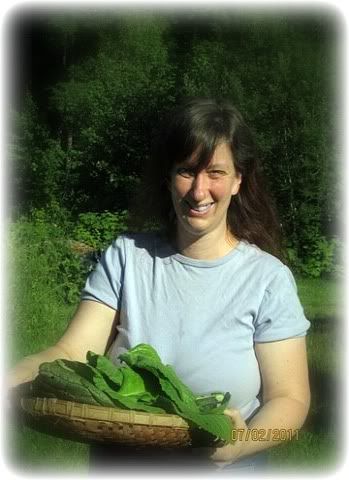 The one thing that our garden has done VERY well with this year so far is... salad greens and cooking Asian greens. I used to not be so thankful as I am now for them. By reading the Maker's Diet it has given me a new understanding and outlook on what I eat and what it does for me. It recommends that we eat three to five servings of greens a day in season.
Some benefits are...
Green plant foods balance your pH. Many modern foods are acidic in nature and can lead to health issues, so balancing your body with neutralizing foods like greens keeps your body's pH at a healthier level.

Some dark greens include omega 3 essential fatty acids , which are important to many of the body's functions, especially for brain function.

Chlorophyl in green plants acts as a blood detoxifier.
They are high in nutrients and enzymes necessary for your body to function, such as iron, calcium, potassium, and magnesium and vitamins, including vitamins K, C, E, and many of the B vitamins.
In greens, you'll find a variety of phytonutrients including beta-carotene, lutein, and zeaxanthin, which protect your cells from damage and your eyes from age-related problems.
Greens are powerful antioxidants, and they support the immune system.
Update on 40 Day Health Experience...
I am thrilled to say I am happy that I took the leap of faith and started the 40 Day Heath Experience. I was afraid of feeling HUNGRY with no potatoes or grains. And I am VERY happy to say I am not. It does take planning and thinking it out but it is good. I think because I have done a lot of changes in my diet over the years that the change wasn't as shocking to my system and I am not feeling yucky from detoxifying. Well, so far I haven't felt flu like symptoms that they warn you could feel. If you do it is because your body is getting rid of toxins. I will keep sharing what I have been learning and changing as the 40 days continue. Thank you sooo much for all your encouragement.