I had heard of this skirt alteration when I went to a family homeschool camp just over 5 years ago and I decided to try it. I was tired of how high the slits were and wanted a more modest alternative. I was very happy with my results and I will for sure be altering other skirts soon. A couple of things I learned...
don't pick too stiff of fabric for the slit panel
and if you want a wider slit panel use a medium light fabric for the slit panel so it will hang nicely.
What you will need....
a slit skirt
a 1/2 yard piece fabric of choice.( I suggest one that isn't very stiff)
Thread to match the color of the skirt ( Walmart sells a Denim thread )
sewing machine
strait pins
I was given a light orange corduroy skirt that was too small but perfect colour match to alter the slit on my garden skirt. Plus it was a perfect skirt to try this out on because it is a work skirt that didn't matter too much if it wasn't perfect the first try. [o=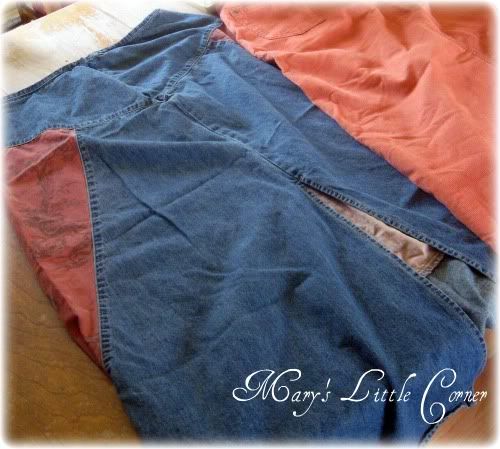 First things first was I had to take apart the corduroy skirt. If you are not up-cycling some fabric then you need about a 1/2 a yard of fabric.
Lay the fabric under your slit and decide how wide a panel you want
and add two inches
cut out your triangle
zig zag around out edge
lay back under slit
pin baste
try it on to see if you like it but be-careful not to get poked.
if you like it then sew with the right sides facing up.
I used the bottom of the orange skirt to line up the jean skirt so I didn't have to do more hemming but if you are using fabric that doesn't already have a hem then I suggest to pre- hem it.
When I used this corduroy it was too heavy of a fabric for a wide panel and I didn't like how it hanged. So I ripped it all out and made the triangle more narrow. After I did that I liked it a lot better. This is why I suggest to audition your panel before you sew. What ever you sew so shall you rip, lol.
I wore my skirt all yesterday in our major garden work and loved it. I was very happy with my work. Also this alteration is very easy and quick. A wonderful way to alter all those pretty skirts you find in those second hand stores.
I am also joining my friend Trish in...