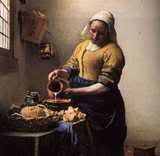 ::The Simple Woman's...Daybook::

~FOR TODAY~
Outside My Window...
It is finally sunny and we can see blue skies and spring green again. The tulips are in full bloom and the barn swallows are diving around. We have seen wood peckers and a pair of eagle too. Things are starting move around here. There is a lot of weeding and raised beds prepped for the
May long week-end
for planting.
( we don't plant before then because of frost concerns. Unless it is something like snow peas and cold hardy plants) Also we have picked the new spots where we want build some new raised beds.


I am thinking...
of how to reach my goal one day of growing up to 95% of our veggies. I know that sounds astronomical but one can have a goal and dream. I read that the author of The Tightwad Gazette and her family were able to do that. It is now my hopes and desires to attain this in a couple of years. Starting to read about how to make and use
cold frames
to extend our growing and harvesting season is part of the plan.
I am thankful for...
being able to easily use my clothes line again.


From the learning rooms...
we are enjoying our Canadian History historical novels.


From the kitchen...
I am wearing...
my brown A-line skirt with a brown t-shirt and my
Shalom Cardigan
.( pattern is
HERE
I used Soulemama's alterations
HERE
)
I am creating...
I am going...
to hopefully paint a fresh coat of paint on the bottom of
my tub
( I just noticed the post I first shared my tub is from Sept. 2008...boy has time flown ! I think this bathroom is about time [o=)
I am reading...
my worn out copies of The Tightwad Gazette books Vol 1, 2, 3 ( if you are looking to read them I recommend to looking for The Complete Tightwad Gazette)

On my mind...
about this year being a another full year my MIL is getting married, going on another hike like
this one
, getting back into helping with that garden again, planning another school year to name a few.
Around the house...
is crying out for a spring clean. ((sigh)) I need to thoroughly clean and dusting the down stairs library after a long winters use of the wood stove.
One of my favorite things...
is the fresh spring green of new leaves budding and the planning stage of things like a new year of the garden.
A Few Plans For The Rest Of The Week:
paint the tub a final coat
clean the home library
make Serene's Sour Dough Bread
try to stop being nervous and just start sewing. Take it one step at a time and start easy.
And work on 2nd sock for me.
try to take more pictures to post in future posts. [o=