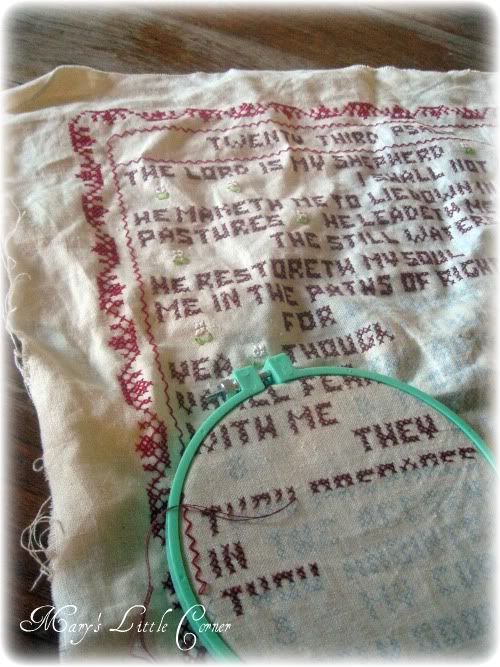 It all started with the Lord prompting me to fast from computers on Sunday and Monday and then it happened... a month long blogging break. I was amazed how at peace I was for the most part. Instead of fighting it I tried to embrace this time away. I spent many hours focusing on my men and reading,organizing my home ( posts to come with what I have done), knitting, stitching and letting the Lord minister to my soul. I feel the Lord has a lot more to do with me but I am open to meeting Him where it is quiet. This last month was a test of applying what I have encouraged many others for years with the issue of finances. First as you know my computer died, then our van broke down and wasn't worth fixing, and then there was another bit of income that was greatly delayed. The first two I took the blow with grace but the third I sat and cried. But thankfully the Lord gave me a friend who with a loving listening heart let me cry and helped dust me off , encouraged me and then I was able to stop and rely on the Lord more. The Lord showed me that despite everything going on around me that He is in control. He showed me a flock of robins one day. All the years of my life I have seen one...two or even three robins at a time but never a flock. That really spoke loud and got my attention. A reminder that he takes care of the birds and he will take care of me too and be still and know that He is Lord.
22Then Jesus said to his disciples: "Therefore I tell you, do not worry about your life, what you will eat; or about your body, what you will wear. 23 Life is more than food, and the body more than clothes. 24 Consider the ravens: They do not sow or reap, they have no storeroom or barn; yet God feeds them. And how much more valuable you are than birds! 25 Who of you by worrying can add a single hour to his life? 26Since you cannot do this very little thing, why do you worry about the rest?

27 "Consider how the lilies grow. They do not labor or spin. Yet I tell you, not even Solomon in all his splendor was dressed like one of these. 28 If that is how God clothes the grass of the field, which is here today, and tomorrow is thrown into the fire, how much more will he clothe you, O you of little faith! 29 And do not set your heart on what you will eat or drink; do not worry about it. 30 For the pagan world runs after all such things, and your Father knows that you need them. 31 But seek his kingdom, and these things will be given to you as well.
Luke 12:22-31
During this time away I stitched and stitched and stitched . My goal for a while now has been to bust my stash. I knitted dish clothes ( there are a few missing from the picture because I gave some to my brother and mom) , I found a cross-stitch kit that my mom gave me years ago. I think she got it when I was little or even pre-me. [o= What a timely verse during this time.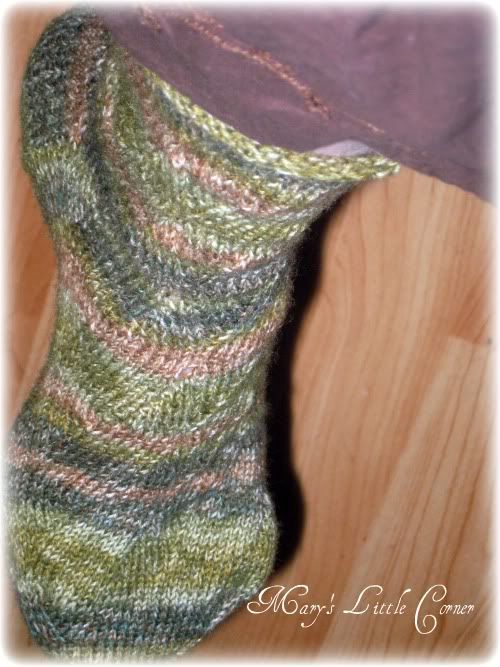 I visited the local yarn store and caved in and bought some bea u ti ful wool to knit some socks for ....me. [o= I now have the second sock to do now. It is hard to see the pattern but you can see it better
HERE
and get the pattern too. If you have done simple stocking stitch socks but haven't graduated to fancy stitch ones this is a great one to do next. I love it and found it a great one to build your confidence. I am now thinking about other sock patterns I want to try next.
In some ways it seems like I didn't have a lot to learn but I learned it more deeply. Also we are still learning and adjusting our budget. It is amazing how the Lord can keep teaching in this department after so many years. (hope to be sharing what we have learned in the future) Tweaking and adjusting and learning layer by layer.
Joining Trish today in ...