Handsome and I went for a quick get away on Sunday and Monday. What did we do? Well, we went south of the Canadian border to shop and used my hubby's free night that he won at a Travel Lodge Hotel. Sunday morning we visited a lovely church just outside of Spokane and then went mall'ing and then out for a lovely pasta dinner. It was a nice relaxing, slow moving day and then on Monday we shopped. We found a lot of neat stuff at two second hand stores , a kitchen store, and Hobby Lobby.
I found shirts and jeans for the boys and Handsome found himself two pairs of pants and two shirts for $4. I gave him the "deal of the day award" for finding 4 things under a dollar at the store. Other than that we found sheets, hand towels, towel to make a
dish drain towel
, bread pan, and a dough scraper (for Essie and Philip), red table cloth, slippers , skirts, tops and a robe. I may have to join tomorrow (Wednesday) in on the Shoe String Chic meme @
Thrift At Home
to show my outfits and how much I paid for them.
We each found a neat book which was under a dollar each. Ohh what a perfect price. ( Well, free would have been better. [o= I have been very curious about "
The Maker's Diet
" and can't wait to read it. I have been hearing about it for a few years now.
You can't really see the title very well of the book my hubby picked. It is called " More Food From Your Garden... The world-famed Mittleider Method of Grow-Box Greenhouse Gardening". I guess we will have to share what we learn because this book isn't easy to find online.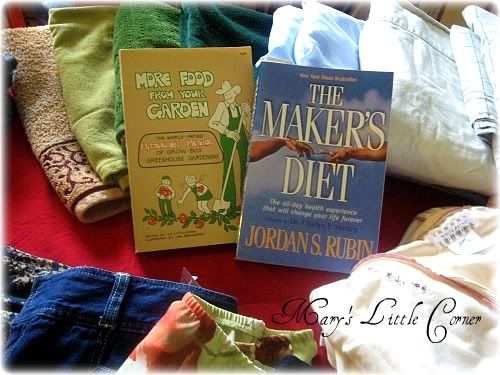 I was so happy to find a bread pan. It was on my list but I really didn't expect to find one and I did. In front of bread pan is the dough scraper for Philip and Essie. I hope they like it.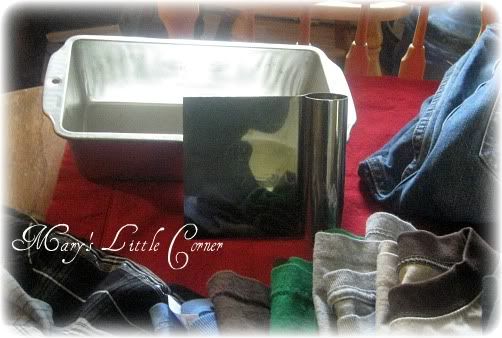 These are the two shirts and pants that helped my hubby find the deal of the day award.
I am soooooooo happy to say I found some fabric that I am going to make myself a pretty apron. It has been on my wish list to sew and finally I can make it become reality. I think I have some solid red fabric that I can make pockets on it with. Ohhh maybe this week end I can budget some sewing time for me.
I have been asked to teach a beading class at the woman's church retreat. I will be teaching them how to make some simple pretty earrings. I was tickled pink to find half the beads and the findings for 50% off.
And these pretty beads too. I am sorry the red table cloth doesn't show off the beads that well. The clear ones on the far left are neat but you really can see it. They have a silver coating on the outer edges and the ones on the far right have a neat two tone pink swirl in the middle. I had so much fun bead shopping.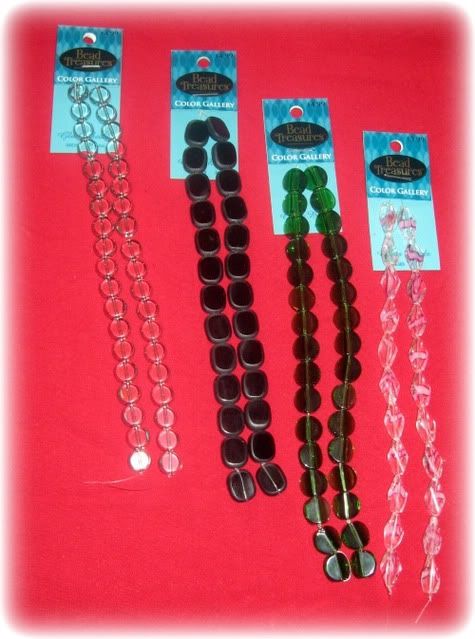 I feel like these shoes were my favorite buy. I have wanted some pretty pumps but with a wider foot I have a horrible time finding them. At the first store I found a couple of pairs that were anywhere from $90 - $150. But then at the second store I was thrilled to find these $65 pairs on sale for $35. I was a VERY happy camper and they are so comfortable too.
We also found my answer to making 70- 100 quarts of apple sauce .... a saucer! I am now looking forward to making it in the early summer.
Last but not least is my new signs for my laundry room. I have been needing something to hang on the walls above my washer and dryer and now on a 50% off sale I found these two for $7. I can't wait to hang them up. On the second sign do you see the " Training Available" ? [o=
I thought that was perfect with 3 boys still in the house.