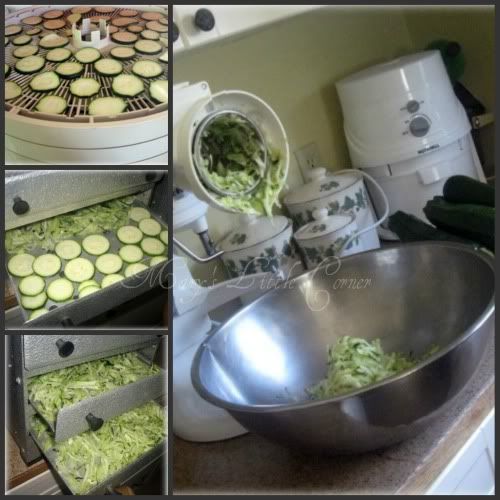 August and September has now been officially titled my MOST busy months of the year. ( it seems to be a pattern now for the last 5 yrs) I am trying to bring in the harvest of zucchini, green beans,greens and hubby is buying peaches to process( along with craft making and getting ready to start school). I have been praying and trying to find plastic free ways to preserve food. One thing that I felt lead to is go back to a very old way and try to dry some of the produce but with a modern twist of a dehydrator. This year I am drying shredded zucchini and sliced zucchini. I will be making some chocolate zucchini bread and a sliced zucchini casserole this winter.
How I did it..
Shredded Zucchini
I shredded the zucchini and then dehydrated it at 125 degrees for about 5-6 hours. Let it cool and store in glass containers till you need it.
Here is a recipe I found HERE.
"zucchini-rhubarb bread".

***************************************


Ingredients:
3/4 of a cup of dehydrated shredded zucchini
1/2 of a cup of dried rhubarb
1 1/4 cups of warm water
3 teaspoons of dried egg powder or 3 fresh eggs
1 cup of melted butter
2 cups of sugar
1 teaspoon of vanilla extract
1/2 teaspoon of ground cinnamon
1/4 teaspoon of ground cloves
1/4 teaspoon of ground ginger
2 1/2 cups of white flour
1 teaspoon each of baking powder and baking soda
A pinch of salt
Before starting your bread pre-heat your oven to a temperature of 325 degrees. While waiting for the oven to obtain its temperature grease two small 3 by 7 inch bread pans.
In a medium size bowl combine your dehydrated zucchini, the rhubarb and warm water together and hand mix well. Let this mixture sit for approximately 30 minutes.
In another medium bowl beat the eggs well and add the butter, the two cups of sugar, and the vanilla extract. Once again mix well by hand-stirring. It is now time to add the rehydrated zucchini and rhubarb along with some cinnamon, cloves and ginger. Stir the mixture again to combine all the ingredients.
In yet another bowl you will be combining the white flour, baking powder and soda while adding the pinch of salt. After mixing the dry ingredients together you can add it to the egg mixture and continue to blend together by hand. Now divide the batter you have created into the two bread pans. Let the pans rest for about 20 minutes prior to baking in order to allow the flavors to mingle properly.
Bake your bread for one hour and then check it by placing a toothpick into it. If the toothpick comes out clean the bread it done. Remove them from the oven and cool on a wire rack.
There you have it all in a nutshell, an excellent method of preserving your zucchini from your summer garden for homemade wintertime bread.
Dehydrating Zucchini and Making Bread
By Joseph Parish
I will be experimenting with converting my chocolate zucchini bread and will share when I get it all ironed out.
[o=
Also here is a recipe for sliced zucchini.
Zucchini Chips
*************
Dry sliced zucchini at 120 degrees for 12-18 hours
Eat as a snack alone or dip into favorite dip or use in ...
Italian Zucchini Casserole
***************************
serves 4
2 cups boiling water
2 cups dried zucchini
1 medium onion thinly sliced
2 Tablespoons butter
1 cup fresh or canned tomato ( I will be using fresh or roasted sweet peppers)
Salt and pepper
1/2 cup cheese
Pour boiling water over dried zucchini slices. Let Soak 1 to 2 hours. Drain. Cook onion slices in butter or margarine until transparent. Add drained zucchini slices. Cook and stir 5 minutes. Add tomatoes or sweet peppers and season to taste with salt and pepper. Pour into casserole and top with grated cheese.
Bake in 350*F oven 25 to 30 minutes, until lightly browned.
Having tons of fun in the Kitchen. [o=
Joining my friend Lori in...