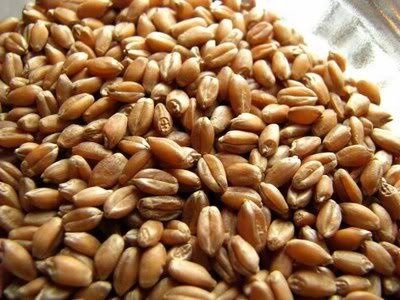 If you have been visiting lately you would know that I am on the hunt for incorporating soaked, fermented, and sprouted recipes lately. I finally jumped in and sprouted my own wheat berries and made sprouted wheat flour. If you were to go to the health food store you would pay a lot to buy already sprouted wheat berries. And this is where the savings tip comes in. I found some neat videos to show how to sprout your own wheat for a fraction of the price.
I saw some techniques lately that were a bit more complicated and
then
I found
these
videos. Oh they are so
easy
to implement. I sprouted some of my own wheat berries, dehydrated them in my dehydrator, ground them in my wheat grinder and made some pancakes. (
Part 1 of making healthy pancakes is
HERE
) They were wonderful! I used the flax seed egg replacement and had the most fluffy and light wholewheat pancakes I had ever had . I also used 1/2 the amount melted butter ( or olive oil) and 1/2 applesauce to replace what it called for oil in the recipe. With all these alterations not only do you have VERY healthy pancakes you have done many ways to decrease what you would have had to pay to make them.
Here is how to make flax seed egg replacement
Oh btw here is my pancake recipe that I use...
Mary's Pancakes ( Non soaked)
2 serving of flax seed egg replacement ...1 Tbsp. ground flax seed to 2-3 Tbsp.s water
2 cup of ground sprouted wholewheat flour
2 tsp. sugar
2 Tbsp baking powder
2 Tbsp.s melted butter or olive oil
2 Tbsp.s applesauce
1-2 two cups milk to desired consistancy ( I personally put in 1/4th the amount of milk and 3/4ths the amount water)
Beat eggs with a fork or whisk till light and fluffy: beat in remaining ingredients just until smooth.
If you try them come back and let me know how they turned out.