Ask and You Shall Receive...that is what happened to me.
God answered my prayers about my health...more than I could have dreamed. I have over the last year and half been on a journey of healing. I have learned that for years my body was highly stressed and toxic. The stress was out of my control and the Lord helped me through it. The toxic part was my doing but I didn't know I was inflicting myself. You might be asking what in the world? Well, I see there is a common issue in many people trying to get healthy again and starting to eat whole grains but they don't understand one very important thing. That is... we need to soak our grains before baking or cooking them. When I cried out to the Lord the second time for more healing he showed me the book " The Maker's Diet" by Jordan Rubin. He introduced to me the some of
why and how
to soak grains for food. Here is one video that shows
how to sprout grains
also.
This one cooking skill among others things ( which I will share over the next little while) has changed my state of health

dramatically

. I have seen my son's and my allergies

diminish

, my

adrenal gland fatigue gone away, clearing up of my skin, no more hypoglycemic reactions. I use to almost faithfully fall asleep reading out loud to the boys after lunch. I couldn't understand why but little did I know I was having a hypoglycemic reaction. I would have to take a 15 minute power nap everyday to be able to function. This always made me nervous if I had to drive somewhere at that time. Now I don't have to worry about that, praise the Lord. I have one friend who is diabetic and was thinking she had to give up grains and I encouraged her to start soaking grains the amazing thing is she had no reaction when eating them. That was HUGE. My mother in law who has avoided grains for years because of the hypoglycemic sugar spike issue. She has come over and ate our soaked grain pancakes and had no reaction. I am dumbfounded at all these personal testimonies. Soaking grains about 100 years or more ago was common but became a almost lost skill. There has been a re-birth of this and one book I cannot recommend enough is Sally Fallon's book Nourishing Traditions... The Cookbook that Challenges Politically Correct Nutrition and Diet Dictocrats. Or you can get a lot of the same recipes and know how's HERE. I will be sharing other sites and recipes that we have found we love over time too, I promise.
But right now I would like to share my favorite bread recipe that I have tweeked and developed from another recipe. It has been a BIG winner where ever I serve it.
Homemade Whole Soaked Grain Bread Recipe
*soak together for 8-24 hours, I highly recommend if possible closer to the 24 hours because it gets light and fluffier.
12 cups of ground whole wheat flour

1 cup of acid base....for example kefir, cultured buttermilk, whey, or 1/4 cup apple cider vinegar plus 3/4 ths cup water.

3 cups of warm filtered water

2 cups old fashioned or rolled oats

1 cup of honey ( what I do because my son is highly allergic to honey I fill my measuring cup halfway with sugar and fill the rest with boiled water stir and cool and then add to ingredients)

3/4 ths cup of soft butter ( you can also use melted coconut oil)

1/2 cup flax seeds, optional

2 Tablespoons of poppy seeds,

optional
1/2 cup water

3 Tablespoons active dry yeast

2 Tablespoons sea salt

dough enhancer... a good pinch of powdered ginger, 3 Tablespoons of apple cider vinegar, 8 Tablespoons of vital wheat gluten.
Knead the dough for 10 minutes

butter very well a big bowl, a bit extra on the bottom because you will flip dough over to coat dough all around.

cover ( personally I use my canner lid ) and let it rise for 1 to 1 1/2 hours in warm place.

tip... I turn on the over at 350 for 2-3 minutes while I am mixing bread and turn off and turn on oven light.

If you have time punch down and let it rise for 45 minutes for a second rising. If not go to the next step.

Shape, place dough in buttered bread pans, make 3 slits with a serrated knife 1/4 inch deep, and let dough rise again for 30-45 minutes. I usually re-heat the oven at 150-170*F degrees for a couple of minutes and then turn off before I place the loaves in for the final rising.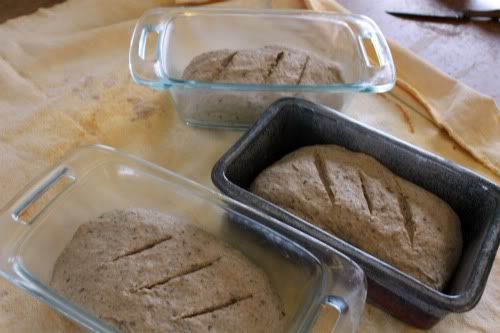 Leave loaves in and turn on the oven to 350*F and bake for 30-45 minutes. Bread is done when you can insert a cooking thermometer in the bottom of the bread loaf and it reaches 200*F .
Remove from bread pans and cool.
From my kitchen to yours...