This has been a learning curve with my frozen shoulder. Learning how to take better care of myself by stretching and pacing myself. I am happy to say that each week I am getting little bit better and less pain in my shoulder. ( still a slow process) During this I have noticed I have needed more sleep. This happened to me when I was battling my adrenal gland fatigue. I tend to wake up very early to get my hubby off to work. But when my body tells me I need more sleep I have been listening by going back to bed for a bit longer. The only down fall is the mornings is my time of day that it is totally quiet in the house and that is perfect for quiet times with the Lord. Also it is "my" time on the computer. We have one computer in the house that four of us share. So... if I want to blog, research, write emails, edit pictures , get on to Pinterest [o= ... it is mainly in the morning but everything in its time. I will rest in this season that I am going through and trust in the Lord.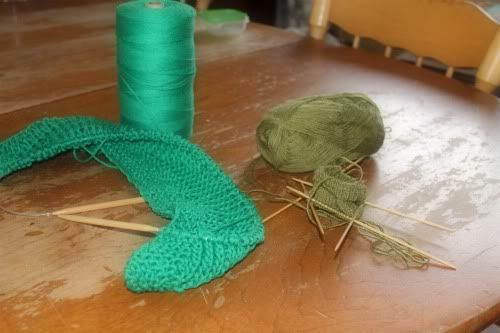 My knitting is slow during this season too. I have come to really appreciated more of the use of my arms and hands in this experience. Appreciating how amazing our fingers, hands, arms, and shoulders work together in such

intricate ways. I'm amazed at our nervous system. I have been having some semi-numbness in my fingers in my right hand which makes knitting with sock yarn a challenge because it is very thin. When I touch something warm it soothes all the way up my arm. So, I enjoy holding a warm cup'a

tea or apple cider vinegar tonic in my hand or having my hands in warm water. ( a good motivator to wash dishes, lol) is such a blessing. I guess knitting the guys their socks will take a bit longer but I will get there eventually.