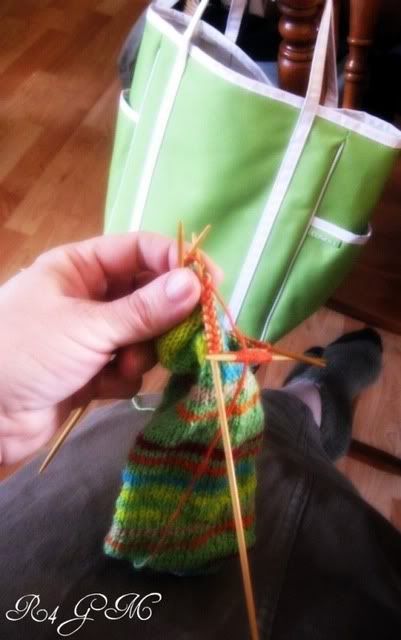 A Knitter's Meme
When did you first learn to knit socks?
I think it was about 8 years ago, sadly my memory is foggy.
What's the first sock you ever knit?
I learned and pretty much have only knitted one sock pattern, other than once. This year I hope to expand on this.
Favorite Sock Pattern?
http://www.coatscrafts.co.uk/Knitting/Howtos/how_to_knit_socks.htm
http://www.coatscrafts.co.uk/NR/rdonlyres/361AD56B-CEB4-4191-9219-2296CE58552C/74378/Howtoknitsocks.pdf
Favorite needle method?
So far all I know is the top ( at the cuff) down ( to the toe)method. I want to learn how to go from the toe up and also I want to learn how to knit two socks at the same time on circular needles too. All in time I keep telling myself.
Favorite sock needles?
5 double pointed needles made in bamboo.
Who do you knit socks for?
My hubby, sons, MIL, DIL, sometimes other family members too, plus ME. [o=
How many pairs have you knitted to date?
I really don't know I have lost count and never thought to keep count, lol.
What is on your sock knitting to-do list?
Ohhh I have a basket full of yarn to knit socks for hubby and my 3 boys at home, my MIL, and myself. I will be knitting socks for awhile now. I hope to interrupt it with a cardigan or two too.
What kind of socks to you like to knit-
Striped?
yes.
Color work?
haven't tried yet.
Plain Stockinette?
LOVE IT.
Cabled?
Want to so bad!
Lace?
Yes, I am in the midst of making me a pair right now.
Anklets?
Ohhh yes. It is a great way to get more socks out of a ball of yarn. The tightwad comes out on this one. [o=
Knee Socks?
I am hoping to make some in the new year.
Solid colors?
Yes
Bright and crazy?
Yes.
Faux Fair Isle (the yarn doing all of the work)?
Ohhh I want to try these REAL soon.
Tag a few sock knitters here: I really don't know who knits socks out there so if you do consider yourself tagged and let me know if you did the tag.