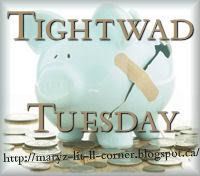 I have been so sweetly asked to start up my Tightwad Tuesdays again and I am so happy to oblige. For the first come back post I would like to share and really encourage others about the No Poo ( shampoo) method. I did it for quite awhile and loved it and then I for some wierd reason I got out of it. While I am encouraging you in this I am kicking myself to get back to it too.
Go
HERE
( and this is a picture of her and her hair after using the no poo method) to find my favorite recipe
To make this recipe, that really does works, costs pennies! It really does work belive me. Just remember to give your hair time to transition. Hints on transitioning go
HERE
too. Now if you have another no poo method please leave some links in the comments of what you have found useful. I know there are different kinds of hair and some different kinds of recipes. Also if you post a Tightwad Tuesday mention it in the comments so others can visit you.