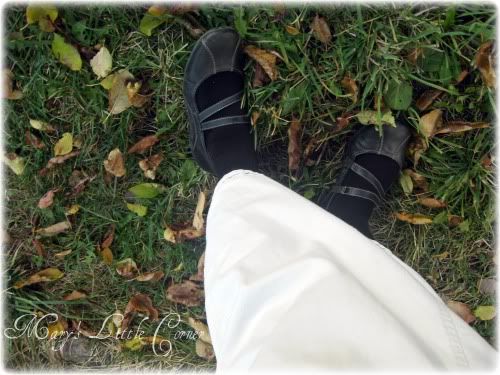 Frumps to pumps ( my sweet Mary Jane's)
My Mary Jane's are my favorite shoes right now. They are a way to have cute shoes but at the same time nice comfort. I have a wider foot and I can't seem to wear the cute pumps that some can. These Mary Jane's are wonderful too because they have support and give. The best of both worlds I think. [o=
I am suppose to first share the "why" I am joining in on this challenge. I have, as you know, been working on my Journey to Better Health for over a year now. As a result I am looking at who I am outside and inside. Now that I am getting older I have noticed I had gotten slack in too many ways. I am hoping to be spiffing up my appearance on the outside but also the Lord is showing me I need to spiff up what is on inside. I am being led to grow closer to Him and not to be slack in this department either. I am trying to keep my Bible open each day and read when ever I have a moment, pray continuously through out the day, and I am trying to block out time to write in a prayer journal. I am really looking forward to the Lord growing me in all these ways.
Day 3's post really struck me strongly. I have always been enamored that the eyes are a window to the soul. If you take a minute and really picture this, it is quite profound. It shows that it is a in to our soul and it shows you how vulnerable it really makes our soul. That means we have to be very protective of what can come in via our window. Let us be so very careful to what comes into this window for example...our books, music, anything visual, acutally any kind of media, our environment, and our close friends and relationships.
Day 1 – Dressing in Freedom
Day 2 – Prophesying Hope
Day 3 – What Are Your Eyes Focused On?
Here is a fun way to put a bit of sparkle in your appearance that doesn't take a lot of time. This looks like something I can do! And I hope to try it today.
Eye Shadow 101 – How to Apply a Perfect Eye Shadow Look (featuring Sarah Mae and her fabulous sister (and soon to be blogger), Keitha Marie):
I will continue days 4-6 tomorrow. Till then....