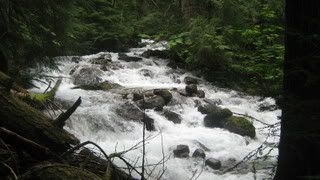 This is a picture from the top of the water line.
I can see why
Teresa Tapp
calls it boot camp. Now, don't get me wrong it isn't horrible it is just pushing me. Not every story has the same results and not everyone looses inches in the first week. For I am one of them but I have noticed some really neat changes this last week. I am noticing my stomach ( which is my main trouble spot) is changing shape and I am toning up and getting stronger all over. On Sunday my sweetie and I went for a hike up the waterline. I wasn't really looking forward at first because there is one really steep area that REALLY challenges me. But being a good wife I went without grumbling. I was sooooo surprised when I was walking up that steep section that I wasn't huffing and puffing like I tend to do. Yes, I could feel my muscles working but I didn't even stop once for a break to catch my breath! I am hoping to start seeing some inches fall off soon but I am seeing a difference and I like it. Now, just as a comparison I have to say that I have done months actually a couple years of different workouts and my body hasn't had any major changes. But I have been doing t-tapp for about two weeks and I see changes! So, I have to say that I am becoming a happy camper in this boot camp.
[o=
I will keep you posted on Mondays (or Tuesdays depending) .