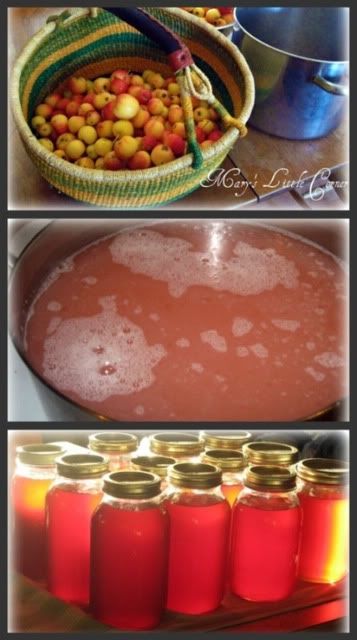 This is apple time and one of our traditions is to go picking and make crab apple jelly each year. My ds Luke and I are allergic to pectin so this is a perfect jelly for us. It is so scrumptious and I have to say it is beautiful too. I love how it seems to glow and glimmer in the sunshine. [o= If you don't have a source of crab apples then you can use this same recipe and make Granny Smith Apple Jelly but it won't be the same red colour. So here is the recipe!
CRAB APPLE ( or Apple) JELLY RECIPE

Fill a large pot with ripe cut in half crab apples or cut in quarters Granny Smith apples that had stems and ends removed. (peels and cores need to be included for jelly to work)
Cover with water so it just covers apples & bring to boil on medium high heat.
Simmer for 50 minutes until mushy-soft.

Place cooked crabapples & liquid in strainer (lined with cheesecloth)
over large bowl until juice is strained. Later I gather the cheese cloth and tie a string around to close then lift and hang it above a bowl or pot to get every last drop of juice. ( I will show a picture later today or tomorrow to demonstrate this)
Measure juice = __ c. (Make note of this quantity for later.)

Sterilize canning jars , 10 minutes in boiling water.



Combine prepared juice in large pot. Add equal amounts of sugar to juice. Stir on med-high heat until it comes to a full rolling boil. Boil hard for 40 minutes, stirring once or twice, testing for jelly stage near the end. Skim off foam if necessary.

Pour into hot sterilized jars to within 1/4 inch of top. Wipe rims clean for a tight seal. Put on lids and screw tops "finger tight". Allow to sit overnight on a tea towel on counter to seal.




Joining my sweet friend Lori in...