Ohhh the beginnings of fall is here. Fall festivals, windy cloudy days, change in lighting outside, feeling overwhelmed with all the harvest jobs on top of trying to get schooling into a routine and getting ready for the fall festival. ( all at the same time LOL)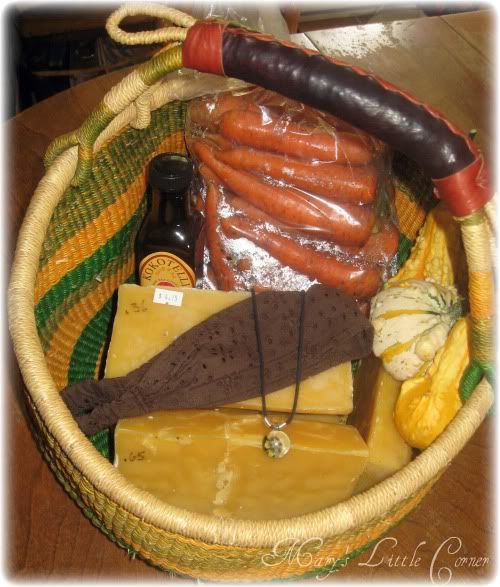 But I have to share my treasures I found while rubbing noses with the farmers and artistians on Sunday. We went to our Garlic Festival in our area and oh how fun it was. The sad thing to report was once again my batteries in my camera ( after leaving home, ((sigh)) ) were dead. So no pictures were taken at the festival. ((double sigh)) It was a beautiful sunny day and all kinds of good things to see and taste. [o=
The main thing I had set out to find was a fair trade African basket, and I found mine. Then I went around the fair filling it up with treasures. What kind of treasures do you ask? Well, let me tell you. In the picture you will see yellowish blocks in the basket. Those are my beeswax blocks I found at a honey booth. I got talking and asked the bee keeper if they also sold beeswax and they just happened to have some but just forgot to put it out. Ohhhh blessed me! I needed some to top off what I needed for the Craft fair in November that I am in. I am thankful and so blessed that the Lord took care of this for me.
We got a 10 lb string of onions, 6 lbs of garlic, two 40 lb bags of wheat berries for baking, and put in a order for our 15 butchered chickens ( not shone) , bag of carrots and some garlic syrup. Now this garlic syrup is amazing. You can use it in marinades and salad dressings or as a tonic for colds and flues. I just happened to start getting a sore throat yesterday and I took it right away. I also like the taste. [o= But you may not want to get too close after I have had some, lol. I bought a head band and necklace. I have a weakness for lamp work glass and when it is in my favorite green how could I resist??? I am very pleased with my finds this year.
As we were walking around I kept my eyes open for some decorative gourds. My candle molds that I caste for
these
candles are sadly beginning to tare. So, I will have to make new ones for the coming year or two. Last year I couldn't find any but I
did
this year. [o= And here are my sweet gourds that will soon be caste into molds. ( in a week or two) Aren't they cute...worts and all?